If you are the type of person who prefers to have games on powerpoint or as printable handouts, we have been thinking of you. We offer board games, powerpoint games and more for the classroom and one to one teaching. They have made my lessons fun and I have no doubt yours will be fun too. Added to the good news are the templates we offer that you can use to create customized games for your classroom and teaching.
It is total fun and highly engaging fun lessons with these resources. Games have the power or eliminating negative emotions and keeping learning total fun.With the absence of the affective filter, learning is much more effective.Visit this page.
Printable ESL Board and Card Games

We offer a variety of printable ESL board games and card games to help give your students lots of communicative practice. These games are in printable ESL PDF and MS Word formats. All of these games have been used in ESL classrooms and trust me when I say they work great. We have games like the Crocodile Board Games, Pirate Game, Round Table Card Game, Q and A Card Game, Power Cards and more games of our creation. Visit this page.
ESL Board & Powerpoint Games Templates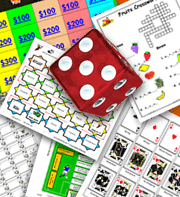 ESL Game Templates - Powerpoint and Word Game Templates
On ESL Games World we do not only aim at providing you with games for your classrooms. We have taken a step further to offer you free ESL games templates to empower you with the tools to make your own exercises. Create Powerpoint and Printable Games in minutes. We understand that you may not have too much time for planning a lesson. This is why we offer you our most precious game templates for free. Create your own exercises using our highly intuitive game templates. With our templates, creating materials have never been easier. You will create customized games to practice the language focus of your lessons.
Get some cool tools for use in your classroom. There are timers here and gadgets that are useful to both ESL teachers and students.